Ta članek boste brali:
3
minut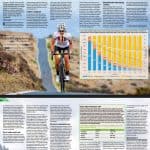 V aktualni številki revije Bicikel.com (9-10 2016) je izšel obsežnejši članek na temo kolesarjenja v klanec. Temo sem skušal zajeti kar se da široko, a hkrati dovolj podrobno in bralcu razumljivo. Strokovnjaki naj zato ne zamerijo, če se mestoma pojavljajo prekomerne poenostavitve. Vendarle gre za poljudno revijo in ne znanstveno publikacijo. Vabim vas k ogledu članka v reviji, spodaj pa prilagam seznam gradiva, ki zaradi prostorske omejitve ni bil vključen v tiskano objavo.
Slika 1. Različne pozicije pri vožnji navkreber predstavljajo različne obremenitve telesa. Aerodinamičen položaj, za katerega je značilen majhen kot v kolku, je z vidika aerobne zmogljivosti manj učinkovit in manj udoben. Pri vzponih nad 7% naklona je optimalneje voziti v pokončni drži, saj tedaj zračni upor ne predstavlja bistvenih izgub. Vir: lasten
Seznam virov, uporabljenih pri pripravi članka:
Arkesteijn, M., Jobson, S. A., Hopker, J., & Passfield, L. (2013). Effect of Gradient on Cycling Gross Efficiency and Technique: Medicine & Science in Sports & Exercise, 45(5), 920–926. http://doi.org/10.1249/MSS.0b013e31827d1bdb
Bateman, J. (2014). Influence of positional biomechanics on gross efficiency within cycling. Journal of Science and Cycling, 3(2), 4.
Beneke, R., & Alkhatib, A. (2015). High cycling cadence reduces carbohydrate oxidation at given low intensity metabolic rate. Biology of Sport, 32(1), 27–33. http://doi.org/10.5604/20831862.1126325
Burke, E. (2003). High-tech Cycling. Human Kinetics.
Cámara, J., Maldonado-Martín, S., Artetxe-Gezuraga, X., & Vanicek, N. (2012). INFLUENCE OF PEDALING TECHNIQUE ON METABOLIC EFFICIENCY IN ELITE CYCLISTS. Biology of Sport, 29(3), 229–233. http://doi.org/10.5604/20831862.1003448
D Jacobs, R., E Berg, K., Slivka, D. R., & Noble, J. M. (2013). The effect of cadence on cycling efficiency and local tissue oxygenation. Journal of Strength and Conditioning Research / National Strength & Conditioning Association, 27(3), 637–642. http://doi.org/10.1519/JSC.0b013e31825dd224
Fogelholm, M. (2012). Effects of Bodyweight Reduction on Sports Performance. Sports Medicine, 18(4), 249–267. http://doi.org/10.2165/00007256-199418040-00004
Fonda, B., & Sarabon, N. (2012). Biomechanics and energetics of uphill cycling: a review. Kinesiology, 44(1), 5–17.
Garvican-Lewis, L. A., Clark, B., Martin, D. T., Schumacher, Y. O., McDonald, W., Stephens, B., … Menaspà, P. (2015). Impact of Altitude on Power Output during Cycling Stage Racing. PLOS ONE, 10(12), e0143028. http://doi.org/10.1371/journal.pone.0143028
Hansen, E. A., & Waldeland, H. (2008). Seated versus standing position for maximization of performance during intense uphill cycling. Journal of Sports Sciences, 26(9), 977–984. http://doi.org/10.1080/02640410801910277
Horowitz, J. F., Sidossis, L. S., & Coyle, E. F. (1994). High efficiency of type I muscle fibers improves performance. International Journal of Sports Medicine, 15(3), 152–157. http://doi.org/10.1055/s-2007-1021038
Martin, J. C., Milliken, D. L., Cobb, J. E., McFadden, K. L., & Coggan, A. R. (1998). Validation of a Mathematical Model for Road Cycling Power. Journal of Applied Biomechanics, 14(3), 276–291. http://doi.org/10.1123/jab.14.3.276
McArdle, W. D., Katch, F. I., & Katch, V. L. (2007). Exercise Physiology: Energy, Nutrition, and Human Performance. Lippincott Williams & Wilkins.
Millet, G. P., Tronche, C., & Grappe, F. (2014). Accuracy of Indirect Estimation of Power Output from Uphill Performance in Cycling. International Journal of Sports Physiology and Performance, 9(5), 777–782. http://doi.org/10.1123/ijspp.2013-0320
Padilla, S., Mujika, I., Cuesta, G., & Goiriena, J. J. (1999). Level ground and uphill cycling ability in professional road cycling. Medicine and Science in Sports and Exercise, 31(6), 878–885.
Pinot, J., & Grappe, F. (2014). Determination of Maximal Aerobic Power on the field in cycling. Journal Science Cycling3, 1, 26–31.
Sassi, A., Impellizzeri, F. M., Morelli, A., Menaspà, P., & Rampinini, E. (2008). Seasonal changes in aerobic fitness indices in elite cyclists. Applied Physiology, Nutrition, and Metabolism, 33(4), 735–742. http://doi.org/10.1139/H08-046
Sunderland, D., & Coe, S. (2011). High Performance Long-Distance Running. Crowood Press, Limited.